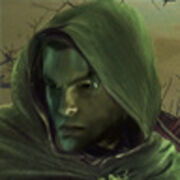 David, also known as Sir David or Battlemaster David, is a good friend of Halt's and the father of Gilan. Sir David is the supreme commander of the King's army, after Lord Northolt died, and one of the best swordsmen in Araluen; like his son, he was trained by MacNeil of Bannock. He has studied cavalry tactics for years and can accept any challenge made to King Duncan. He is currently the Battlemaster of Caraway Fief under Baron Fergus.
The Battle of Hackham Heath
Edit
At the Battle of Hackham Heath, Sir David was the Royal Army's Cavalry Commander. David was a young man, an accomplished warrior and tactician. Best of all, he wasn't highbound by old ideas.